Free credit note generator
Errors happen, but a credit note can help make up for them while giving you a record of all your transactions with each customer. A credit note template from Billdu will ensure you can create consistent and professional credit notes. Try our free credit note maker app.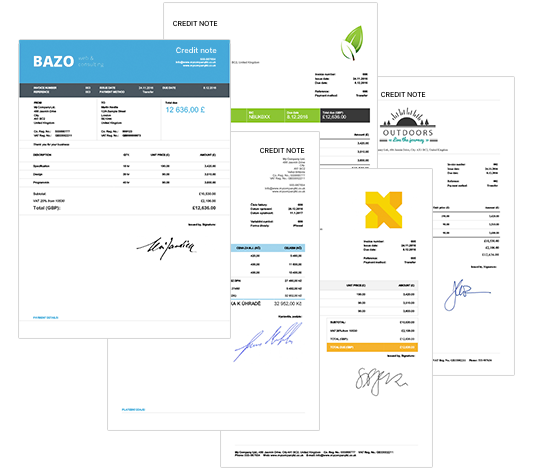 When to Use a Credit Note
A credit note is a simple document you'd issue to one of your buyers to let them know that you applied a credit to their account. You could issue a credit note for several reasons, including:
Product returns due to damage, expiry, quantity change, dissatisfaction on the customer's part, or the wrong product shipped that varied from what he originally ordered.

The customer decides to cancel their purchase within the allowed time.

The invoice total was incorrect due to a mistake in the tax rate, price, or discounts.

You issued a complete or partial waive off of the product sale after you already generated the invoice and sent it to your customer.

If you want to refund the customer, you should create a credit note to have an accurate log of it.

Writing off an invoice.
Benefits of Using a Credit Note
A credit note can come in handy for several situations. No matter the size of your business, you should consider having the ability to create credit notes, so you don't scramble or make more work for yourself.
Tracking Purposes - To have a good cash flow, you have to keep excellent records. Credit notes help you track all of your expenses. This way, you won't wonder why you sent a customer a shipment and credited them later.

Remediate Issues - If your customer has an issue, you have to find a way to fix it, and fix it fast. A credit memo template will help you keep your customer happy or tide them over until you're able to correct the issue or mistake.

Professional Look - A credit note generator lets you create a professional look for your company. You can use your logo or brand colors to create a seamless look across all of your credit notes and other materials.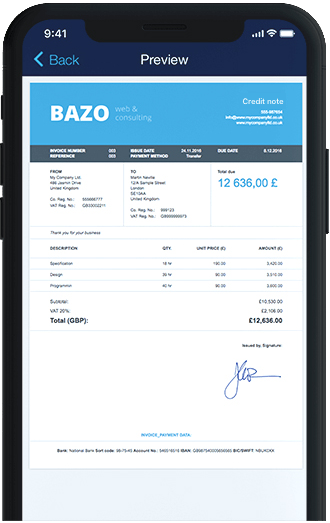 How to Use Billdu's Credit Note Maker
You don't need an account to use Billdu's credit note generator. However, you do need to register for an account to save your information and take advantage of all of the cloud-based software and mobile app capabilities for iOS and Android.
As you can see in this credit memo example, you have everything you need to track and issue your credit. It includes:
Business Information - The business information includes the business name and address. The email address is optional.

Bill To - The bill to field includes the customer's name and address.

Tax Reg No - Your business's personal tax registration number.

Credit Note No - The credit note number should be unique to help with tracking.

Issue and Due Date - The issue date is the day you send out the credit note. The due date informs the client when a refund is going to be paid at the latest.

Reference/Payment Method - The reference number should be the original invoice's number, and the payment method is how you credited the account.

Order No - The order number is the unique credit order number.

Description - Describe why you want to give the customer a credit. Include the quantity and price.

Total - The generator will automatically add up your total, including any discounts or tax. It'll display it at the bottom.

Notes - The notes section is where you describe why you're going to credit the account and any specific terms you have for the customer.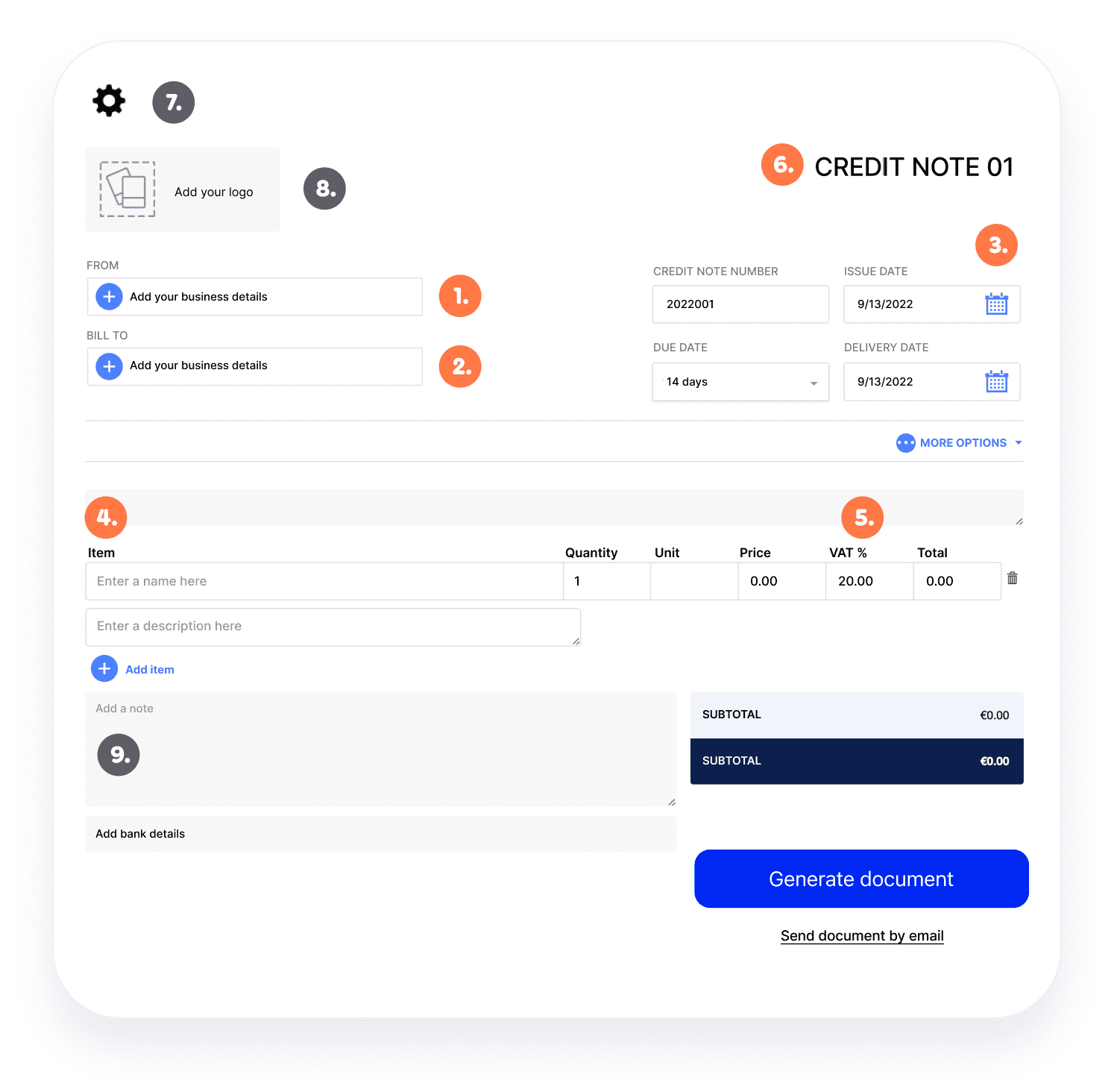 Generate a Credit Note Sample with Billdu's App and Software
After you create your first credit note sample, consider upgrading. Billdu has cloud-based software and an app that runs on both Android and iOS devices. The app allows you to use the credit memo template to generate credit notes anywhere you happen to be in the world.

You'll be able to see when the client receives your credit note, and all of your information will automatically save in the cloud-based software. This makes it easy to generate your credit notes while reducing your chances of mistyping information or making a costly mistake.
Should You Use a Credit Note Generator?
Both small and large businesses can benefit from using a credit note template. Some businesses choose to create their credit notes using Word or Excel, and this increases the chances of making errors. Additionally, it's very time-consuming to create credit notes for dozens of clients by filling in their information each time. Billdu takes all of these problems away while streamlining your processes.
Frequently Asked Questions
Q: Is the app responsive?
A: Yes. Billdu's app works on both iOS and Android devices. As long as you have power and data, you can access the app to create your credit notes. It's very responsive to your needs without taking up too many resources or space. Everything will automatically sync to your account, and you can review and track the documents from your dashboard.
Q: How does the credit note generator save you time?
A: To start, creating an account will allow you to save the contact information from hundreds of clients. When you need to send them something, you can pull up their information with a click of a button. It'll save your logo, branding information, and specific colors and any formatting as well. All of these things add up to time-saving measures.
Q: Is the credit note generator free?
A: Yes. This is a free version of Billdu's credit note template. However, you'll have to upgrade if you want to save it. Upgrading also gives you the chance to explore Billdu's full software suite and see how it can work for your business.