Free business quote maker
Create business quotes online for free with the Billdu quote maker app. Create beautiful business quote templates with our creator. Quotes are ready to be saved, printed out, shared, or emailed in a couple of seconds.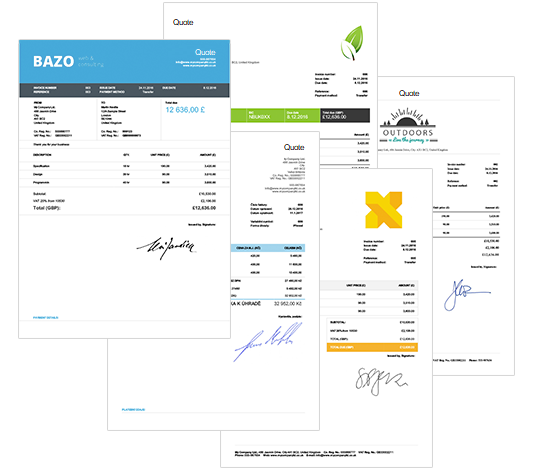 Benefits of using a quote generator
Creating and sending printed business quotes has come to an end with the rising popularity of small business productivity and management tools. Such tools often include invoicing tools, expense tracking, creation of delivery notes, purchase orders, and, of course, business quotes. Using a quote generator that comes with these tools such as Billdu has many advantages:
Quote making - Make professional quotes online or in the app from scratch or by duplicating previous quotes.

Tracking - Keep track of your quotes, customers who accepted your quotes, invoices you created from your quotes.

Payments - Get paid quicker for jobs you finished based on the accepted quotes.

Professionalism - Having a consistent invoice and estimate system like Billdu will make your company look, feel, and present as a professional entity.

Reporting - Have an instant overview of your sales performance: Quotes issues per month, quarter, year – reports and chats at your fingertips.

Time saving - Time is money, and Billdu small business apps give your business more time to operate while saving valuable time you'd normally spent on quoting, invoicing and expense tracking.
How to create free quotes: Step by step guide
Creating free quotes cannot be any easier. Follow this guide and have your business quote created in minutes (or even seconds).
1. Our quote generator will prompt you to fill in your business details. Insert your business name, email, address, and tax registration number before clicking the 'Add' button. If you do not want to repeat this step every time, register for a 30-day free trial of the full version of Billdu and have your business details automatically added to every new quote.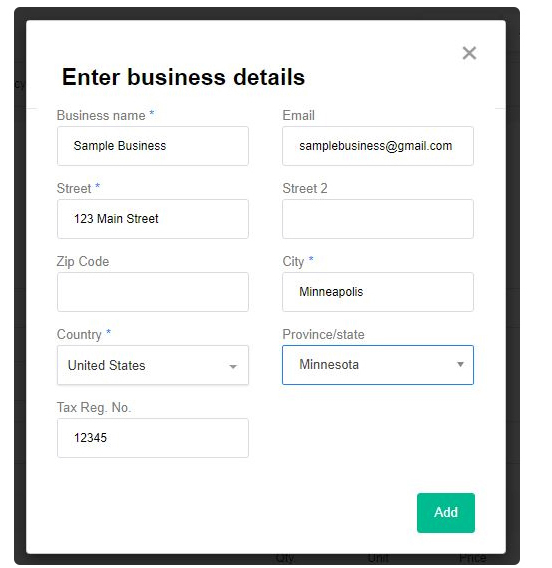 2. In the 'Bill to' section, add your customer details. When you are done, click 'Add' to insert these details into the quote you are working on.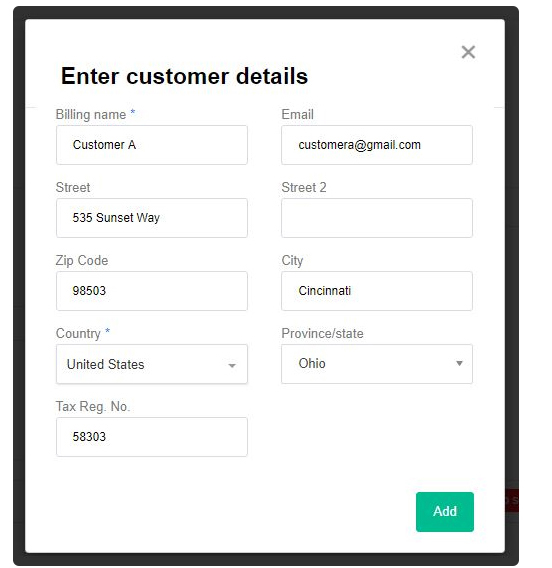 3. Add your logo, the quote number, issue date, and due date next before moving on to the "More Options" field. The quote generator will automatically fill in today's date, but you can adjust it however you like.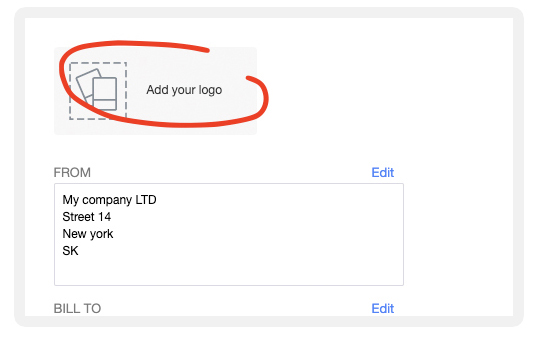 4. Optionally, you can open the 'More Options' dropdown which will open voluntary options that you can include in your business quote. Here, you can enter a discount which will then be automatically applied to your quoted total.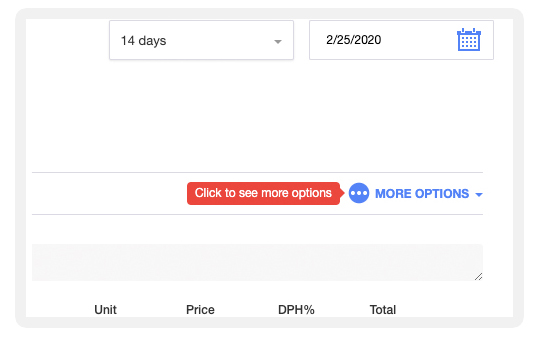 5. Under 'Items' you include the names and details (description) of good and/or services you are quoting for. Insert the quantity, unit (e.g. pcs, kgs, mths), unit price and GST. The subtotal will be automatically calculated for you in the currency you selected in the quote settings at the very top of the quote template.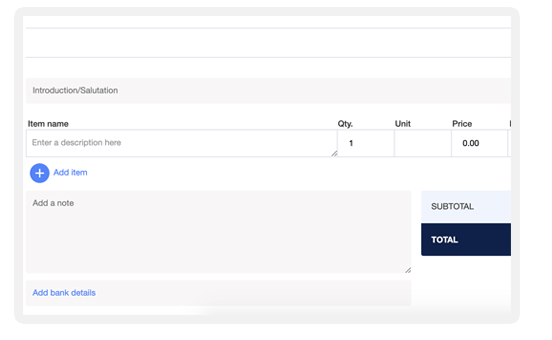 6. Voila, your free business quote is ready! Preview the quote, save it to your computer, share the link with your team and email it to your customer. If you loved the process and want to get more out of your quote maker, register for the full version of Billdu – we offer a 30 day long no credit card free trial.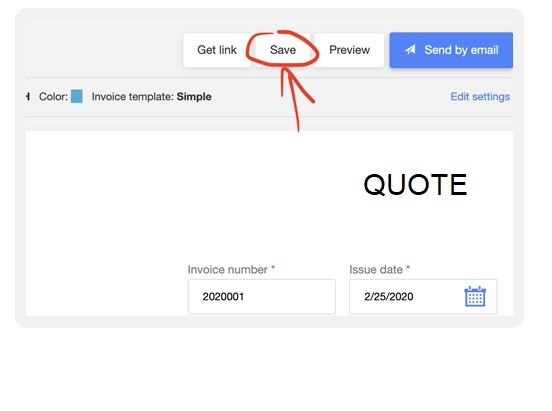 Information to include on your quote
There are several important information that every quote should contain in order to be valid and potentially accepted by your customer. Our quote maker contains all these fields so make sure you fill them out with relevant data:
Business Information - Your quote should have all of your business's and your customer's relevant contact information including a business name, address, contact, business number/ID, email and phone.

Price Breakdown – list all the goods and services your are quoting for with unit prices and subtotals, with an optional discount.

Validity – Specify how long your offer is valid for to avoid any misunderstandings.

Notes – add any notes and product details that are relevant to your business quote.

Payment options – state your bank details so that the customer has them should they decide to proceed with doing business with you.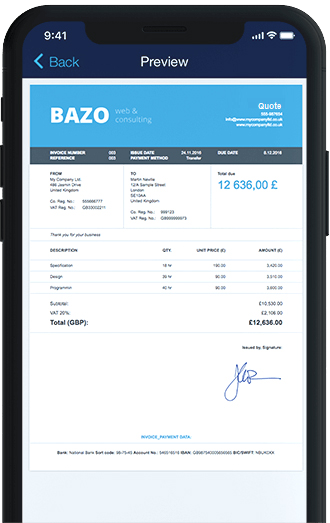 FAQs about Free Quotes
Q: What is a quote in business?
A: As a potential supplier of goods or services, you create a quote (business quote, business quotation) which will include the products you are quoting for and the price you want to charge. Your prospective business partners/customer reviews the quote and in case the quote gets accepted, you can arrange the product delivery.
Q: How to write a business quote?
A: Every business quote needs to have certain information that will make it clear: a) who is quoting (your business details); b) who you are quoting for (your customer details); c) what you are quoting for (products and prices); d) what's the validity of the quote. All these details, along with other information, can be easily filled in our online business quote generator above.
Q: When do you support a small business quote?
A: Whenever your customer asks you for a proposal or a quote to deliver certain products, you create and send them a quote. Using a quote generator like our free tool is great for preparing and submitting small business quotes as it is easy to use and free. Dozens of small businesses loved it and registered to use the full version of Billdu to keep the archive of their quotes and convert them to invoices.
Q: What is the difference between proposal, estimate and quote?
A: Quotes and estimates contain similar (or identical) information and the main difference is that you are expected to honor quoted prices when delivering products, whereas with estimate, you have some room to adjust the pricing. Estimate is usually created when you do not have all the necessary inputs (e.g. not sure of the site conditions where you are supposed to build a water feature). Proposals take quoting to the next level by providing a lot more detailed information on the product, conditions of delivery etc. – a proposal is usually a structured text document of presentation.
Q: Is this quote generator free to use?
A: Yes, our online quote generator is completely free of charge. If you decide to register and use all Billdu features, you can select a plan starting from $3.99 which will enable you to create unlimited number of quotations and the generated business quotations will all be accessible online in your Billdu dashboard or via our mobile app.
Q: What does your free online quote generator allow me to do?
A: You can create free quotes, preview them, save them to your computer, print out your quotes, share them with your coworkers or customers via a link or send them by email.
Q: Are Billdu quote templates customizable?
A: Absolutely. At the very top of this quote generator you will find the Settings option. Here, you can switch between the five quote templates we offer. Also, you can set the color scheme of your quotation here, adjust the field names used, currency, document language and more.