Online invoice generator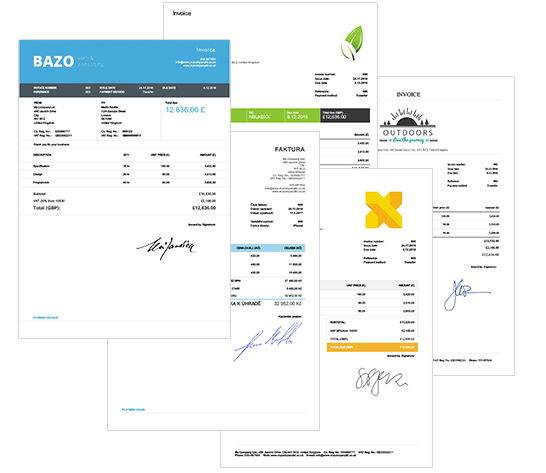 Create Accurate, Professional Invoices Every Time
Creating and sending professional invoices with ease is essential for any business. With Billdu's cloud-based software and mobile apps for Android and iOS, you can generate invoices online from any device, whether it's a smartphone, tablet or PC, in minutes.

This has many important advantages for small- to medium-sized business owners:
Make your business look more professional

Ensure your invoices are paid faster

Keep your invoices organized in the cloud, making your tax returns and financial reporting easier

Save time and money
To assist users who do not have a have a Billdu account yet, we have put together this free online invoice generator. Here's how to use it, and why it could be one of the most advantageous things to happen to your business.
How to Create an Invoice Using Billdu Online Invoice Generator
As you can see here, the template has several different sections which are easy to complete:
Logo: Add your company logo to customize the invoice

Issue and due dates: The invoice issue date is automatically set to the actual date (but can be changed), you can set the date your invoice is due

From: Fill out your company details

Bill to: Fill out your client's details
The total of your invoice will be automatically calculated by the generator based on the itemized prices you entered in step 5. You can also customize your invoice by choosing different colors and including your company branding, such as your logo.
Generate Invoices in the Billdu App
Once you have created your first invoice using Billdu's invoice generator, consider an upgrade: Things get even easier if you register and start using your Billdu account as the app saves your customization settings, business information and details of your clients, making it even quicker to generate invoices.

Billdu is easy to use on all devices thanks to its intuitive, cloud-based software and mobile apps for iOS and Android. You can create and send invoices on-the-go from anywhere in the world, making it much easier to do business wherever you need to be. The system also enables you to see when your invoice has been received and opened and gives the client an easy way to pay using the "Pay Now" button.

All of these functions are extremely important, as creating invoices has to be done right, and can be a complex and time-consuming process if you don't have the right solutions available to help you out.
Register to generate invoices in the Billdu app
Should You Use an Invoice Generator?
Not all businesses use invoice generator software. Some still create invoices using Word or Excel. However, this is extremely time-consuming, as you have to remember to rename each invoice and give it a new reference number, as well as deleting and retyping a lot of information. You also need to work out the invoice totals yourself in some cases, so there is an increased risk of mistakes.

If you are busy running a business, this time and effort could be better spent on other tasks. This is why it makes sense to use a bill generator, so the mundane invoice details can be taken care of automatically, and you can spend your time growing the success of your business.
TOP features that will change your business We create time saving tools which accelerate the growth of your business.
1. The word "Invoice"
It may seem obvious to you that the document is an invoice. But is it so obvious to your client? Remember, you want your invoice paid quickly. The client needs to know at a glance that this document is something they need to take action on, not just another communication they can file away and forget about. For this reason, the word "Invoice" has to be shown in large, clear letters so that the client knows to act quickly. This will also help you when you are sorting through your documents to complete financial reports or tax returns.

The word "Invoice" is usually included in the header of the document. If you choose to, you can also include your company logo in the header on the other side. This makes your invoice and your business look more professional, and also makes it immediately obvious who the invoice is from.
2. Your business contact details
Right below the header, you should include the details of who the invoice is from. This should be:
The name of your business

Your business address

Business phone number

Business email address
These should be listed in a specific section marked "From" so the recipient can clearly see who has sent the invoice and how they can contact you with any queries.
3. Your client's contact details
In a separate section marked "For" you need to include contact details for your client:
Their name

The name of their company, if relevant

Their address

Their phone number

Their email address
Including these details makes it clear that the invoice has been sent to the right person. Having their contact details on the invoice can also be extremely useful if the invoice becomes overdue and you need to chase the payment.
4. Unique reference number
Every invoice should have its own unique reference number. This makes it easier for you and the client to know which invoice is being referred to if there are any queries or you are chasing a late payment. It is particularly useful if you need to send multiple invoices to the same client.

Most reference numbers include a reference to the client, such as initials representing their name, followed by a number, which is usually allotted sequentially. However, there are various numbering methods you can use – some also include the date.

It is extremely important that each invoice has a different reference number. One of the main advantages of using invoice generator software is that the reference number is updated automatically on each new invoice, so you don't need to worry about forgetting to change it. This makes it much easier for you and your clients to keep your records in order.
5. The date
Your invoice must show the date when it was issued. This has a direct impact on your terms, as the client can only work out how many days they have to pay the invoice if they can clearly see when it was sent.

This is also useful when you have to send multiple invoices to the same client, as it helps you and the client to keep track of which invoices are due and when.
6. Description of what the invoice is for
You need to list the goods or services that you are invoicing the client for. Every item should be listed on a separate line, giving a description of the product or service, the quantity of these items ordered, and the unit price of the item.

If the invoice refers to services you have provided, the quantity will be the number of hours you have worked providing this service, and the unit price will be your hourly rate.

Your invoice may refer to several different goods and services. It is essential that each of these is listed on a separate line, so your client can easily see exactly what they are being billed for. A subtotal should be shown at the bottom of this section.
7. Taxes and additional fees
In a separate section below your description section, you need to list any taxes and additional fees, such as shipping costs, which apply to the invoice. It is essential to list each of these on a separate line, as your client may have different internal budgets which they use to pay different elements of invoices.
8. Balance due
The total amount the client owes for this invoice should be shown clearly to avoid any confusion.
9. Your terms and conditions
This section shows the client how to pay the invoice. It should state your preferred payment method, such as bank transfer, credit card or PayPal, as well as details of where to pay, such as your company bank account number or PayPal address.

You also need to state here what will happen if the client is late paying their invoice, such as whether you will charge them late fees if they do not pay within the number of days shown on the invoice.
FAQs About Billdu Invoice Generator
Q: Is it easy to use?
A: Billdu makes it super-easy for you to create and send accurate, professional-looking invoices to all your clients. It initially gives you a blank invoice template which you can easily customize by adding your company branding and choosing different colors, making your invoices instantly look more memorable and professional.
Q: Does it save you time?
A: Billdu invoice generator saves you a lot of time. Once you enter your settings and fill out your business contact details, the invoice is automatically generated and you can download and/or share it. To save more time, generate invoices in your Billdu account – try it for free! using our app to save and track them. This way you don't need to re-enter all your details every time you create an invoice. It can generate recurring invoices automatically, and calculate the amount of tax due on every invoice. In addition, Billdu app can generate a unique reference number for every invoice, and save them all in order in the cloud.
Q: Does it work on mobile devices?
A: Online invoice generator is responsive and works on all devices. Our Billdu invoicing software also comes with two apps, for iOS and Android. This means you can create and send invoices easily from your smartphone, wherever you are. These will automatically be synced with the main software system, so their reference numbers will still be in order, and they will be filed in the right place in the cloud, keeping your invoices perfectly organized.
Q: Is this a free invoice generator?
A: Yes, you can enjoy Billdu invoice generator absolutely free! Also, you can register for a Billdu account to explore exactly what Billdu can do for you and your business – try Billdu invoice generator apps today!.
Other Powerful Invoice Features
Generate recurring invoices automatically

Know when a client has viewed your invoice

Send a payment reminder

Make multi-language invoices

Apply discounts on invoices and items

Preview before sending

Invoice in your preferred currency

Automatic tax calculations

Email your invoice with attachments in just a few clicks