Générateur gratuit de devis commerciaux en ligne
Créez des devis commerciaux gratuits avec le générateur de devis en ligne gratuit de Billdu. Des devis professionnels parfaitement présentés, prêts à être enregistrés, imprimés, partagés ou envoyés par e-mail en quelques minutes.
HOW TO MAKE A CUSTOM QUOTE USING BILLDU'S ONLINE QUOTE GENERATOR
With Billdu, generating a custom quote takes mere moments. Just fill in the required fields, including your and the client's business details, the issue and delivery date, the items and price, tax rate, and quote number. Then, spice up the quote with a logo or colorful template, and email it to a client straightaway or download the PDF completely free.


Required

1. Your Business Details: Clarify who's issuing the quote.
2. Client's Business Details: Clarify who's the quote's recipient.
3. Issue & Validity Date: Clarify when the quote was issued and until when terms & conditions of your quote are valid
4. Item, quantity and unit: Detail the type, amount, and price of the product or service offered.
5. Quote Number: Helps with cataloging quotes for you and the customer.

Optional

6. Quote Template & Color: Customize your quote to create a professional and unique design your clients' can automatically associate with you.
7. Logo: Add your company logo, create a more professional quote, and boost brand recognition.
8. Note: Attach any relevant notes to clarify vital information regarding the products, services, payment, or the quote itself.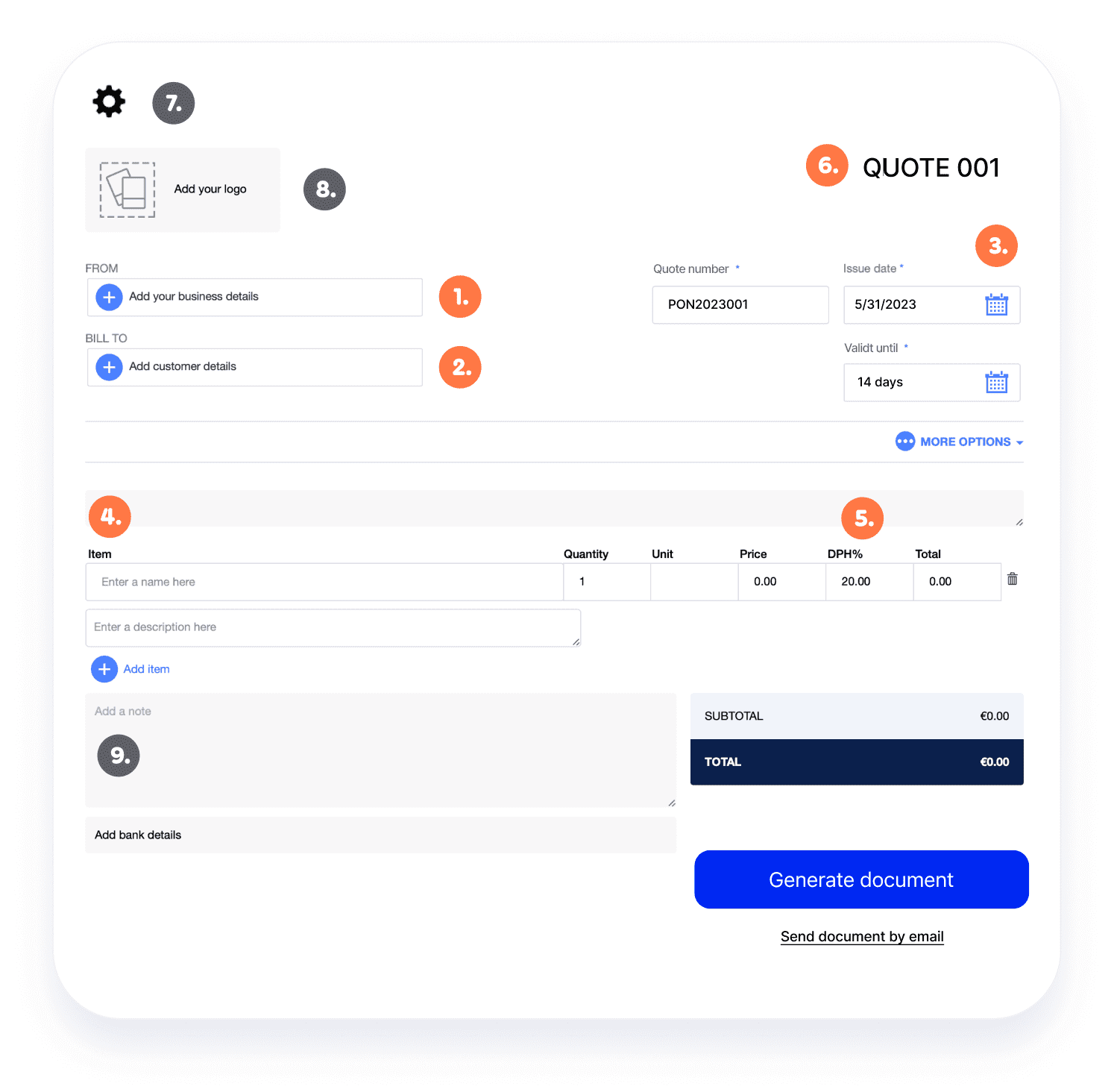 Templates you can create with free online quote generator
Are you tired of the simple old black-on-white credit notes? Take advantage of Billdu's Credit note maker, automatically generate professional credit notes and dazzle your client's with 5 stunning templates in every (and more) color of the rainbow. You can create your custom design directly in our Credit note maker by clicking the corresponding Color and Template buttons in the top bar.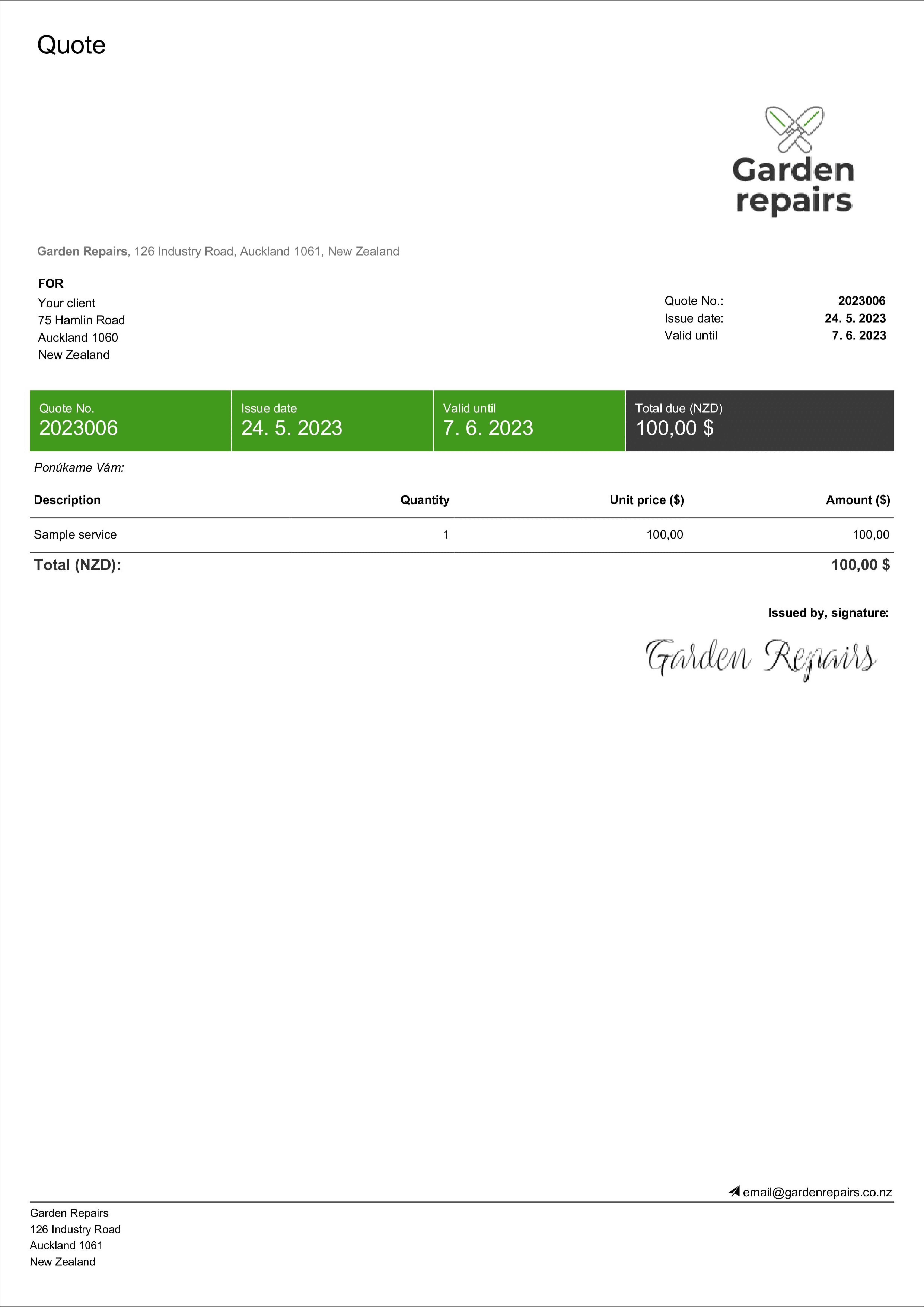 STRIPE TEMPLATE
Download the template example in Word, Excel or Google Sheet
CREATE A QUOTE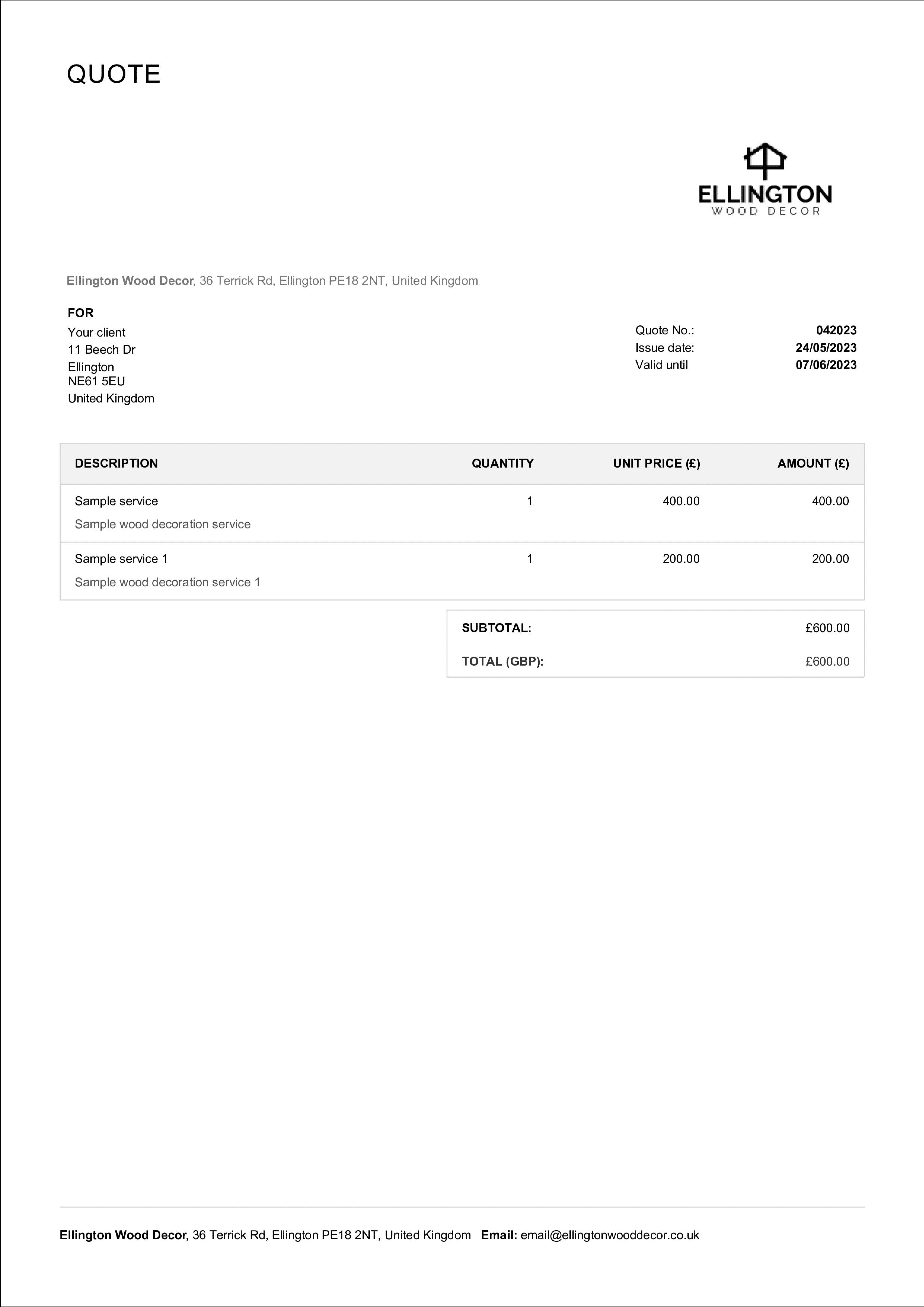 CLASSIC TEMPLATE
Download the template example in Word, Excel or Google Sheet
CREATE A QUOTE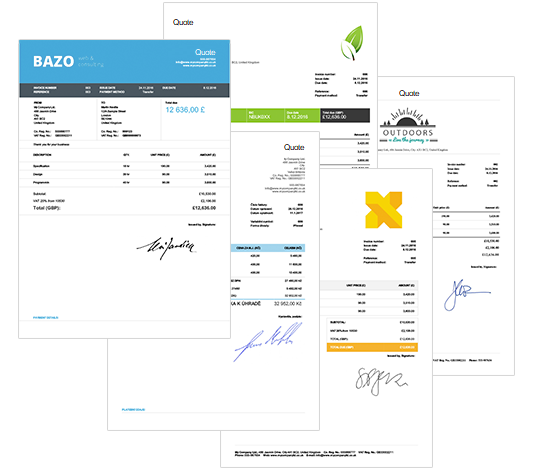 BENEFITS OF USING A QUOTE GENERATOR
We can all agree that sorting through stacks of papers isn't the most efficient use of anyone's time. Thankfully, with the advent of SMB productivity and management tools like Billdu's Free Online Quote Generator, designing, printing, and mailing paper quotes is a thing of the past. Here are just a few of the advantages an online quotation maker can have for your company:
Faster & Easier Quote Creation: Create professional quotes online in mere moments by choosing one of many premade templates, designing your own, or just duplicating past quotes.

Remote Quote Generation: Use Billdu's free quotation maker anywhere and anytime. Generate on the go with our quote maker app, or just visit our online quote generator on your preferred browser.

Better Quote Tracking: Ensure you always know what's going on with your company. Keep track of issued quotes, accepted deals, and past customers, and gain easy insights via comprehensive overviews.

Streamlined Invoicing: Convert accepted quotes into professional invoices in only a few clicks. React to customer requests faster, deliver better customer experiences, and watch your revenue grow.

Timely Payments: Add card payments and generate QR codes for invoices issued based on accepted quotes. Leverage payment reminders to give late payers a push, get paid faster, and keep your company afloat.
INFORMATION TO INCLUDE IN YOUR QUOTES
There are several important pieces of information needed to be valid and (hopefully) accepted by your customer. Thankfully, with Billdu, you don't have to worry about missing something important. Our quote maker contains all the fields for vital information; all you have to do is fill them in. The information your quotes should contain include the following:
Business Information - Your and the client's company information, including business name, address, contact (email & phone number), business number/ID.

Price Breakdown - The name, description, number, price (per piece and total), and discount (optional) for all products and services quoted.

Validity - Specific duration/deadline until which the offer is valid.

Notes - Any notes and product details relevant to your business quote.

Payment Options - Accepted forms of payment and your bank details in case the client agrees to your terms.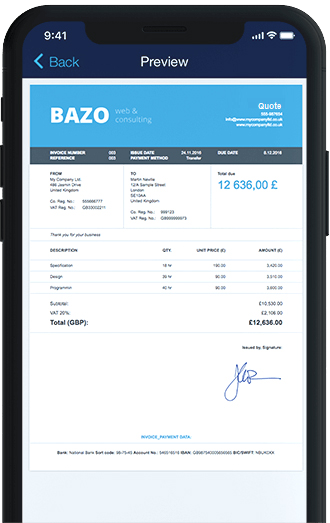 FREQUENTLY ASKED QUESTIONS
WHAT IS A QUOTE IN BUSINESS?
In business, a quote describes a financial document offering one party's products/services to another. It has to include the business details of both companies, a list of offered products/services, their description, price (per piece and total), and validity (deadline when the offer expires). If the client accepts the quote, it can be converted into an invoice.
HOW TO WRITE A QUOTE FOR A JOB?
Every business quote has to include the business details of both companies, a list of offered products/services, their description, price (per piece and total), and validity (deadline when the offer expires). To write a quote for a job, you can make it by hand, in an app, or via a business quote generator. Our Free Online Quote Maker above has all these fields premade and ready to be filled out for maximum convenience. Try it yourself and join the dozens of small businesses that loved it and registered to use the full version of Billdu to keep the archive of their quotes and convert them to invoices.
WHAT IS THE DIFFERENCE BETWEEN AN ESTIMATE AND A QUOTE?
Quotes and estimates contain similar (or identical) information. The main difference is that you are expected to honor quoted prices when delivering products, whereas, with an estimate, you have some room to adjust the pricing. You create estimates when you don't know the full scope of the project/delivery yet.
WHAT IS THE DIFFERENCE BETWEEN AN INVOICE AND A QUOTE?
The main difference between invoices and quotes is when and why you issue them. If you don't know when to use quote vs. invoice, consider the following: Quotes are used as offers of products or services and are non-binding, meaning your clients don't have to accept them, and nothing happens. Meanwhile, you would send an invoice after delivering the promised products or services, and they are legally binding (i.e., the customer has to pay you, or you can sue them).
WHAT ARE THE DIFFERENT TYPES OF QUOTES?
Depending on the situation when they're used and the potential clients they're issued to, there are several different types of financial quotes. Most commonly, these include:

Sales Quote - The standard quote described throughout this article. It is a formal document provided by a seller to a potential client detailing the products/services, quantity, price (per unit, total cost), and any applicable terms and conditions.

Proforma Invoice - A document similar to a standard sales quote, primarily used in international trade. Has to include additional information, like taxes, shipping, price conversion, and other relevant fees.

Service Quote - A type of quote used specifically when offering services. Has to include details regarding the scope of the services, the hourly/project-based rate, estimated completion time, and any additional costs (ex., procurement).

Bid Quote - A type of quote traditionally used in procurement or tender processes where multiple companies compete for a job. Contents can match those of a standard sales quote.

Custom Quote - A type of quote used in situations where a client may have unique requirements unaccounted for in standard pricing. A custom quote should include details tailor-made for the client's use case, including a detailed breakdown of costs, specific items, and terms and conditions.
CAN I CHOOSE BETWEEN DIFFERENT CURRENCIES ON MY QUOTE?
Yes, you can use different currencies on your quotes. In international trade, it's often necessary to account for the customer's local currency, so you can choose whether to create your quote with a single currency, dual currency (detailing both in the pricing), or a section explaining the conversion rate.
IS THE BUSINESS QUOTE GENERATOR SAFE?
Yes, our Business Quote Maker is safe to use. We don't save any of your input information, and our site offers security and encryption features to protect you from unwanted prying eyes. If you'd like to enjoy the convenience of having your business and client information prefilled for future use, we encourage you to try the Billdu App, which is equally as secure with even more productivity features.
FIND DIFFERENT POPULAR GENERATORS