Generador gratuito de facturas proforma
La factura proforma es una factura preliminar de venta que envías a tus compradores antes de realizar el envío y entregar sus artículos. La factura proforma suele tener una descripción de los artículos, los gastos de transporte y el peso del envío. Son muy populares en las transacciones internacionales, especialmente para ayudar a los envíos a pasar la aduana. El software de Billdu basado en la Nube y las aplicaciones móviles para Android e iOS le permiten crear facturas proforma profesionales en línea. Una vez que utilices nuestro generador de facturas proforma, podrás crear facturas con la plantilla incorporada y enviarlas a tu cliente o descargarlas como PDF. Elijas lo que elijas, el generador de facturas te ayudará a evitar costosos retrasos en los envíos porque podrás crear las facturas proforma que necesites y enviarlas rápidamente.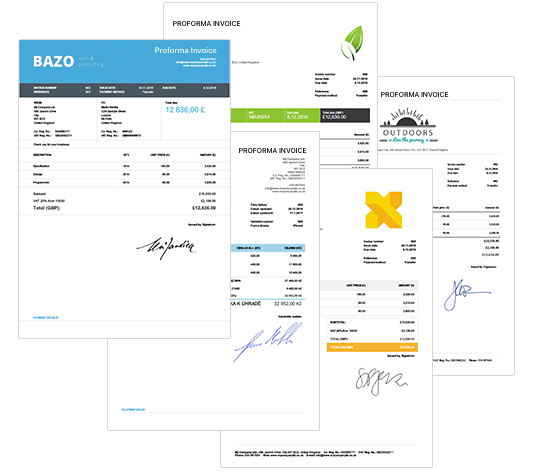 Benefits of Using a Proforma Invoice Maker
Why would you need a proforma invoice template? Well, there are several great benefits that come with using this generator to create your invoices. We picked out the biggest reasons and outlined them below.
Gives You Shipment Details - If you don't have all of the details required to set up a commercial invoice, a proforma invoice will do. You can use it to double-check your order before you accept the goods.

Smooth the Customs Process - You don't want your items to get stuck in customs. A proforma invoice will declare your shipment's value to customs to help ensure a smooth delivery process with no delays.

Builds Trust - A proforma invoice isn't a payment request or demand. Instead, it acts as a good faith agreement to help build trust with your customers and fill them in on what to expect.

Internal Purchasing Approval - If you have a more rigid internal purchasing process like several larger corporations do, a proforma invoice might be a necessary piece of paperwork. Many companies use these invoices to get approval for purchases.

Considered Binding - Depending on where you are in the world, a proforma invoice can be considered to be a binding agreement between a seller and a buyer. The prices may change slightly, but the buyer expects everything to be in the shipment, as you outlined in the proforma invoice.
Use Billdu to Create a Proforma Invoice Online
Billdu's proforma invoice maker has several sections that are very quick and easy to fill out. You can even choose custom colors and upload your logo or brand photos to make it look more professional. You want the top to clearly state that the paper is a proforma invoice. You can fill this in on the upper right. The upper left is where your logo will go.

There are boxes for the issue and due dates on the left side. The tool automatically generates today's date as your issue date, but you can adjust it as needed. Adjusting the due date is easy as well. You should create a unique reference number for each invoice you create to make tracking and finding them quick and seamless.

In the form field, you want to fill out your company's name, address, telephone number, and e-mail address. In the bill to field, you'll fill in your customer's company name, address, telephone number, and e-mail address.

The items category is where you'll fill in everything that's in the shipment, and you want to be concise. Each item line should have a full item name, quantity, unit pricing, tax, country of origin, and currency. Finally, any seller-provided services should have an itemized list. The proforma invoice generator will generate a grand total at the bottom when you finish adding everything.

There is a box to add notes, and this is another very important area. It should have the terms of sale, special instructions, and the validity date. Never send out a proforma invoice with an open-ended date. Finally, you have to sign it and include a title.
Use the Billdu App to Generate Proforma Invoices on the Go
Once you use the proforma invoice generator to make your first invoice, consider upgrading. Billdu offers an app, and you can register for your own account to gain access to the full suite of cloud-based software services.

You can create and send proforma invoices anywhere in the world using your iOS or Android device. You'll be able to see when your customer gets your proforma invoice, check the status, and track it. Each invoice has a unique reference number, which makes keeping them separated easy come tax time.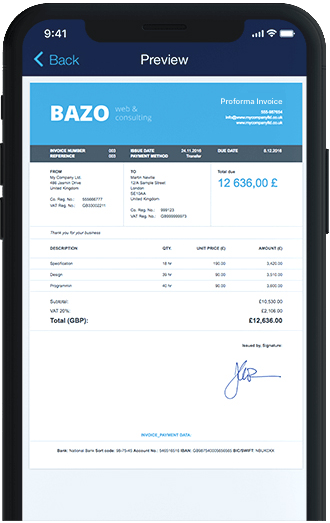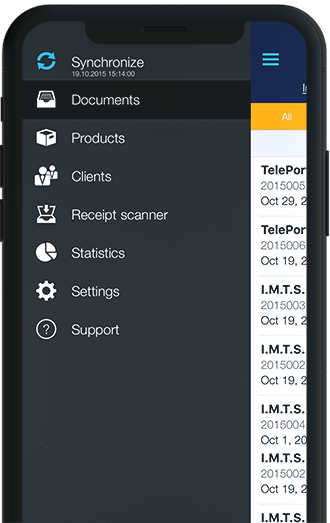 Should You Use a Proforma Invoice Generator?
Some businesses choose to use Excel or Word to create their proforma invoices, but this is extremely time-consuming. It also increases your risk for errors or losing the invoices. You have to work out the totals and add the tax, and this increases the risk for making mistakes. This is especially true if you deal with international shipments and different currencies.

This is why it makes sense to use a proforma invoice generator and a software suite like Billdu.
Frequently Asked Questions
Q: How easy is the Billdu proforma template to use?
A: It's very easy! The generator will guide you through each step and prompt you about what to fill in. You can add your logo, branding information, and specific colors with the click of a button to create professional-grade proforma invoices.
Q: Can you generate proforma invoices on your phone?
A: Yes. Once you register for a Billdu account, you gain access to a mobile app that works on iOS and Android devices. As long as you have data, you can access the app and generate invoices on the spot. They'll save to the cloud on your specific proforma invoice dashboard under your company account to make them easy to find again.