VYTVÁŘEJTE BEZPLATNÉ NABÍDKY ONLINE POMOCÍ GENERÁTORU NABÍDEK BILLDU
Pomocí našich šablon nabídek můžete zdarma vytvářet a odesílat nabídky svým klientům. Získejte nové zakázky s profesionálními cenovými nabídkami vytvořenými pomocí bezplatného generátoru cenových nabídek Billdu. Použijte online generátor nabídek nebo si přečtěte více o výhodách zasílání a vytváření bezplatných cenových nabídek pomocí našeho online softwaru.
HOW TO MAKE A CUSTOM ESTIMATE USING BILLDU ONLINE ESTIMATE GENERATOR
Creating a custom estimate with Billdu takes mere moments. Just fill in the required fields, including your and your client's business details, the issue and delivery date, the items and price, the tax rate, and the invoice number. Then, spice up the invoice with a logo or colorful template, and email it to a client straightaway or download the PDF completely free.

Required:

1. Your Business Details: Clarify who's issuing the estimate.
2. Client's Business Details: Identify to who the estimate is addressed.
3. Issue Date & Delivery date: Clarify when the estimate was issued and delivered.
4. Item & Price Breakdown: Detail the product or service offered, amount, and price. Include associated costs, like materials, labor, permits, etc.
5. Tax Rate: If applicable, include this to clarify how much tax the customer is paying and avoid paying it yourself.
6. Estimate Number: Helps catalog invoices for you and your customer.

Optional:

7. Estimate Template & Color: Customize your estimate to create a professional and unique design your clients' can automatically associate with you.
8. Logo: Add your company logo to boost your estimate's professionalism and improve brand recognition.
9. Note: Attach any relevant notes regarding the products, services, payment, or just the estimate itself.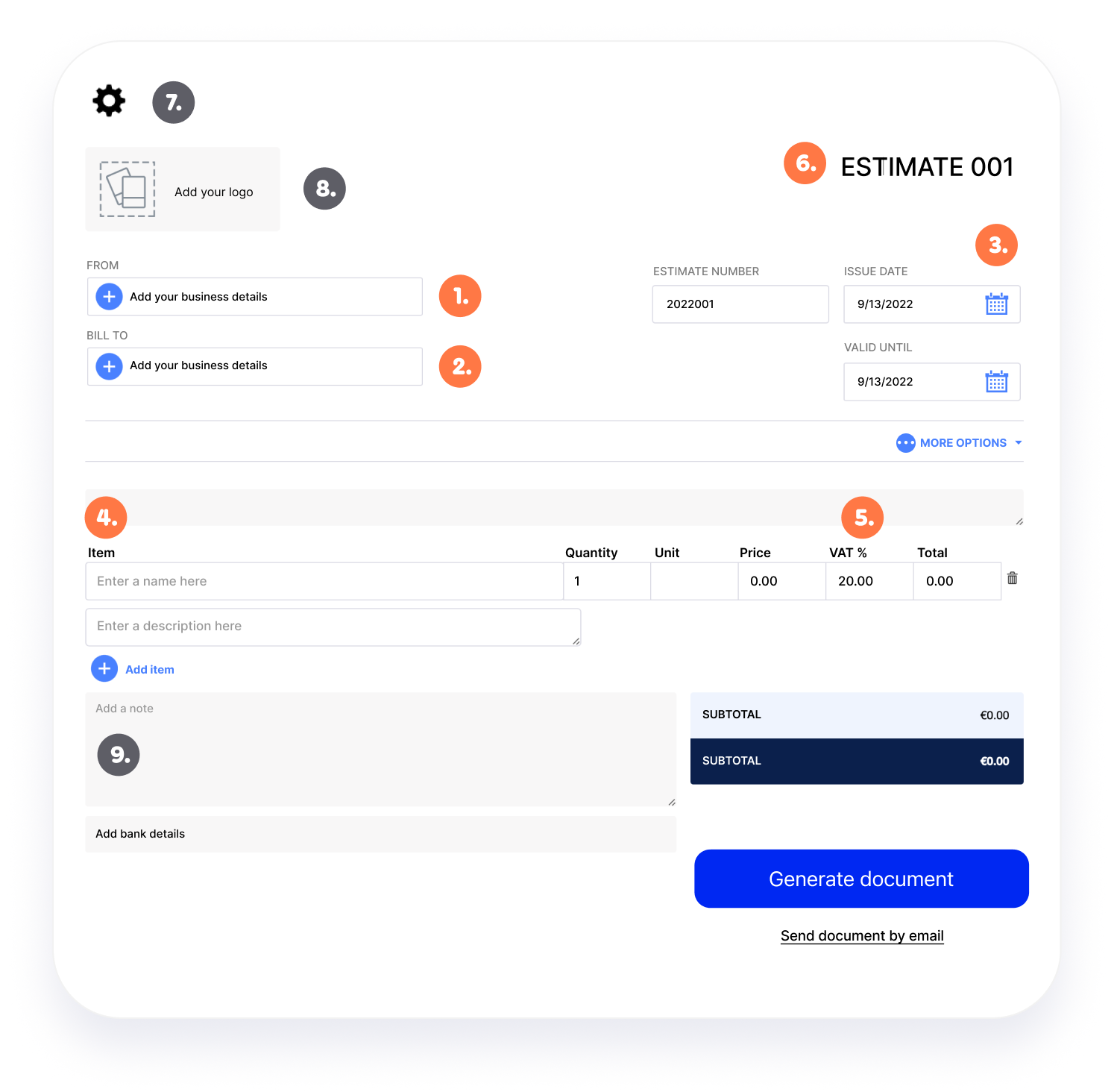 TEMPLATES YOU CAN CREATE WITH ONLINE FREE ESTIMATE GENERATOR
Tired of the same old simple black-on-white estimates? Take advantage of our Free Estimate Generator to quickly create professional proforma invoices that'll dazzle your customers. Choose from 5 stunning templates, or create your own unique branded design directly in the generator via the "Color" and "Template" options.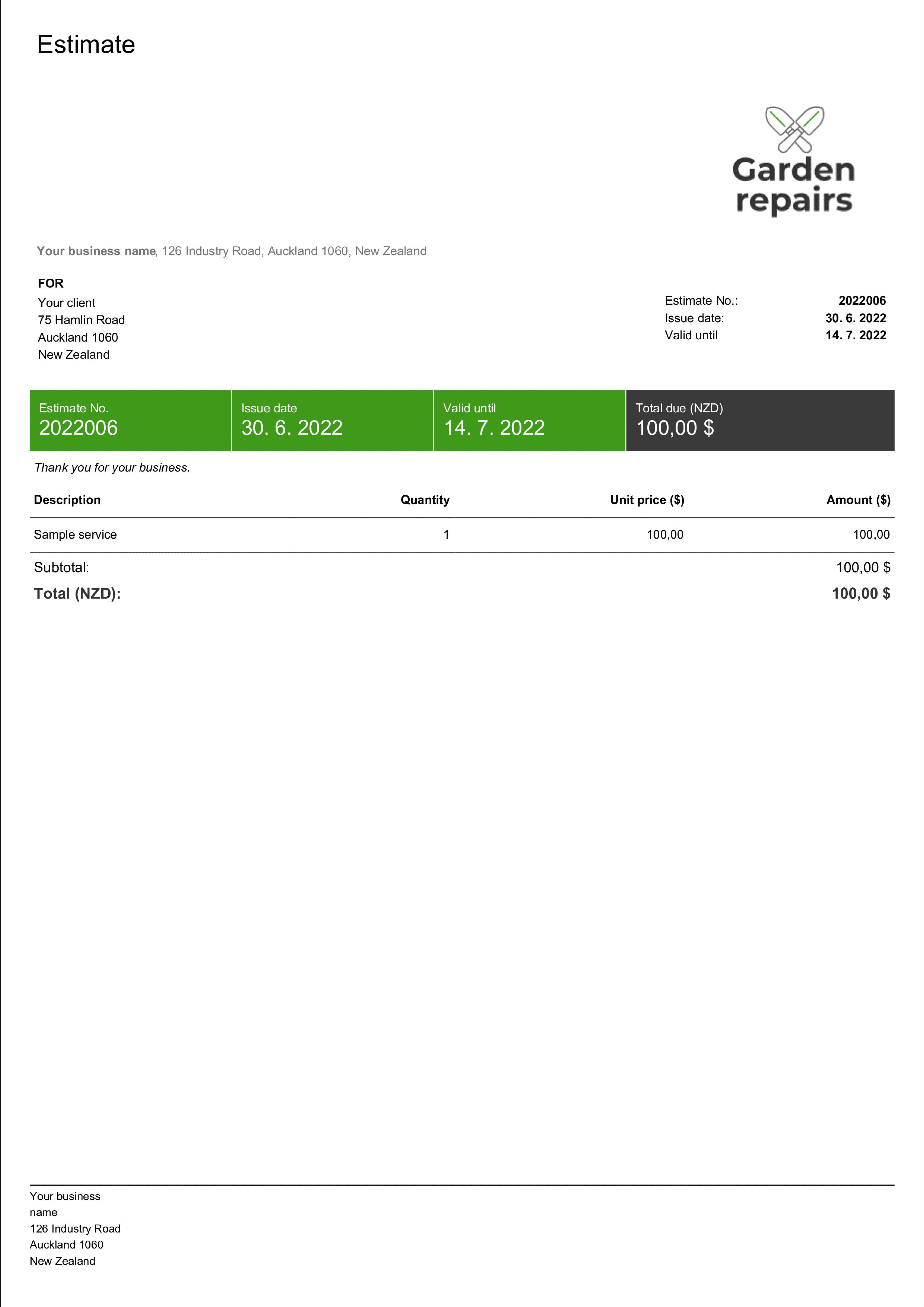 STRIPE TEMPLATE
Download the template example in Word, Excel or Google Sheet
CREATE AN ESTIMATE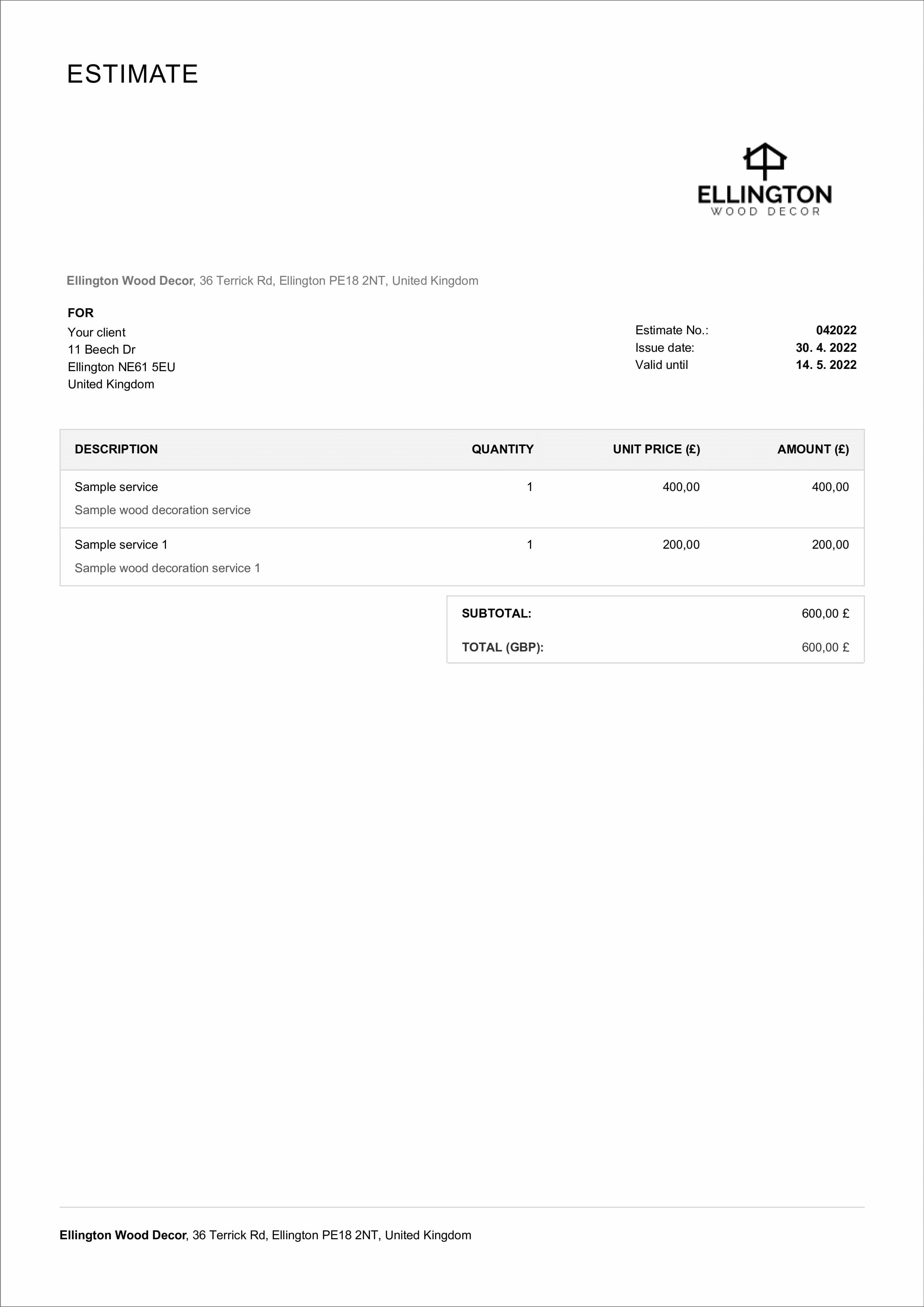 CLASSIC TEMPLATE
Download the template example in Word, Excel or Google Sheet
CREATE AN ESTIMATE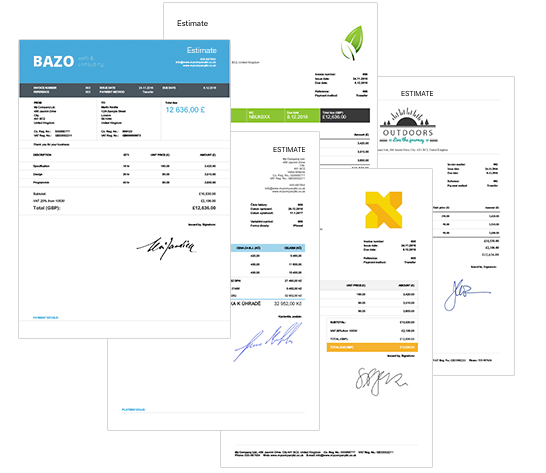 BENEFITS OF USING AN ESTIMATE GENERATOR
Efficient bookkeeping is key for any business that wants to maintain its financial health. But to achieve it, you need to eliminate unnecessary paperwork and streamline your financial operations. Thankfully, our Estimate Generator can help you achieve this goal and offers several additional benefits. These include:
Tracking - Keep your paperwork in order and ensure your customers never miss a payment. Billdu's tracking feature allows you to keep an eye on issued, accepted, and overdue estimates, as well as associated invoices and deals.

Professionalism - Show your customers your best side, reinforce your brand image, and build trust. A centralized business document creator like Billdu helps you create professionally branded estimates and invoices faster and more consistently.

Reporting - Tax season doesn't have to be stressful. Billdu's estimate generator helps you keep all your paperwork sorted so you can always access your vital financial information and file taxes on time.

Time-Saving - Everyone knows time is money, so it's only natural we made efficiency a priority. Billdu helps you save time by automating large parts of estimate creation, cataloging, and reporting. As a bonus, our system will notify you when a customer views or accepts your estimate, so no second is lost.
FEATURES YOU MUST INCLUDE ON YOUR ESTIMATE TEMPLATE
For any business, organization is the key to maintaining healthy finances. This means that you want to streamline your operations using the necessary paperwork, including estimates. Several excellent benefits of using an estimate generator like the one Billdu offers includes:
Business Information - Your estimate should have all of your business's relevant contact information included such as your business name, address, phone, email or tax and ABN.

Price Breakdown - The price breakdown is huge for an estimate. You should list any and all costs associated with performing the job. If it's construction, you'd put the labor costs, materials, and any necessary inspections or permits. The goal is to get the estimate as close to the total costs as possible.

Additional costs - If your customer wants specific materials, the estimate should also include the projected order and delivery date. This will help the customer understand the project's duration and costs.

Terms and Conditions - List how long the estimate remains valid for with any terms and conditions you have. You can make this as simple or complex as needed. If there's anything special for the project, list it.

Payment - How would you prefer your customer to pay you? Do you have certain payment methods you don't accept? What about discounts? List all of this in the payment section.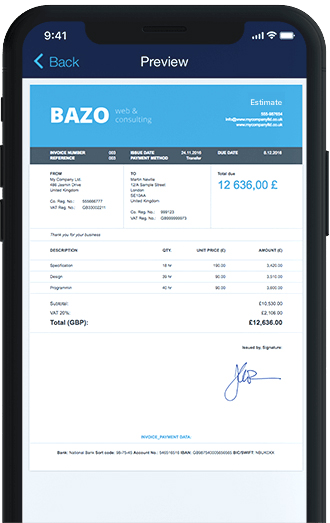 FREQUENTLY ASKED QUESTIONS ABOUT PROFORMA INVOICE
WHEN SHOULD YOU USE AN ESTIMATE?
Estimates are valuable if a customer would like to know a general price point for your products or services. If you're not sure of the job site or scope, estimates are a great tool to help you come up with a realistic price point.
WHAT IS AN ESTIMATE IN ACCOUNTING?
An estimate refers to a business document provided to customers before purchase to help them make informed decisions regarding deals and budget accordingly. Estimates are not final and are often prone to change, offering only preliminary calculations of costs, timelines, and other relevant information.
WHAT IS THE DIFFERENCE BETWEEN AN ESTIMATE AND A QUOTE?
The terms "estimate" and "quote" are often used interchangeably in business communication, but they refer to two distinct documents. While estimates are approximations prone to change, quotes are formal offers detailing final lists of deliverables, prices, and terms of service.
WHAT IS THE DIFFERENCE BETWEEN AN ESTIMATE AND AN INVOICE?
Although estimates and invoices may seem identical at first glance due to including similar types of information, they are very different business documents, unique in their use case and position within your sales funnel. Estimates are approximations sent to potential clients before an agreement informing them of preliminary prices and schedules of an offer. On the other hand, invoices serve as confirmations of finished deals, are legally binding, and carry a payment obligation.
CAN I GENERATE PDF ESTIMATES USING THE BILLDU ESTIMATE MAKER?
Yes, once you finish creating your estimate via our Estimate Creator, you can quickly download it in the PDF format with a single click.
CAN I SAVE MY BUSINESS & CUSTOMER INFORMATION?
Of course! If you sign up for our free trial or subscribe to one of our payment plans, you can save both your business and customer information and use it as often as you like. On top of that, you'll get access to Billdu's many efficiency-boosting features. Try any of our plans for 30 days completely free and continue improving your financial operations for as little as $3.99 per month. Get started right away here.
DO I NEED TO REGISTER TO USE THE BILLDU ESTIMATE GENERATOR?
No, you can use our Estimate Maker for completely free with no registration required. You will have to sign up with your email to download your finished estimate, but don't worry, we won't ask you for anything else.
FIND DIFFERENT POPULAR GENERATORS